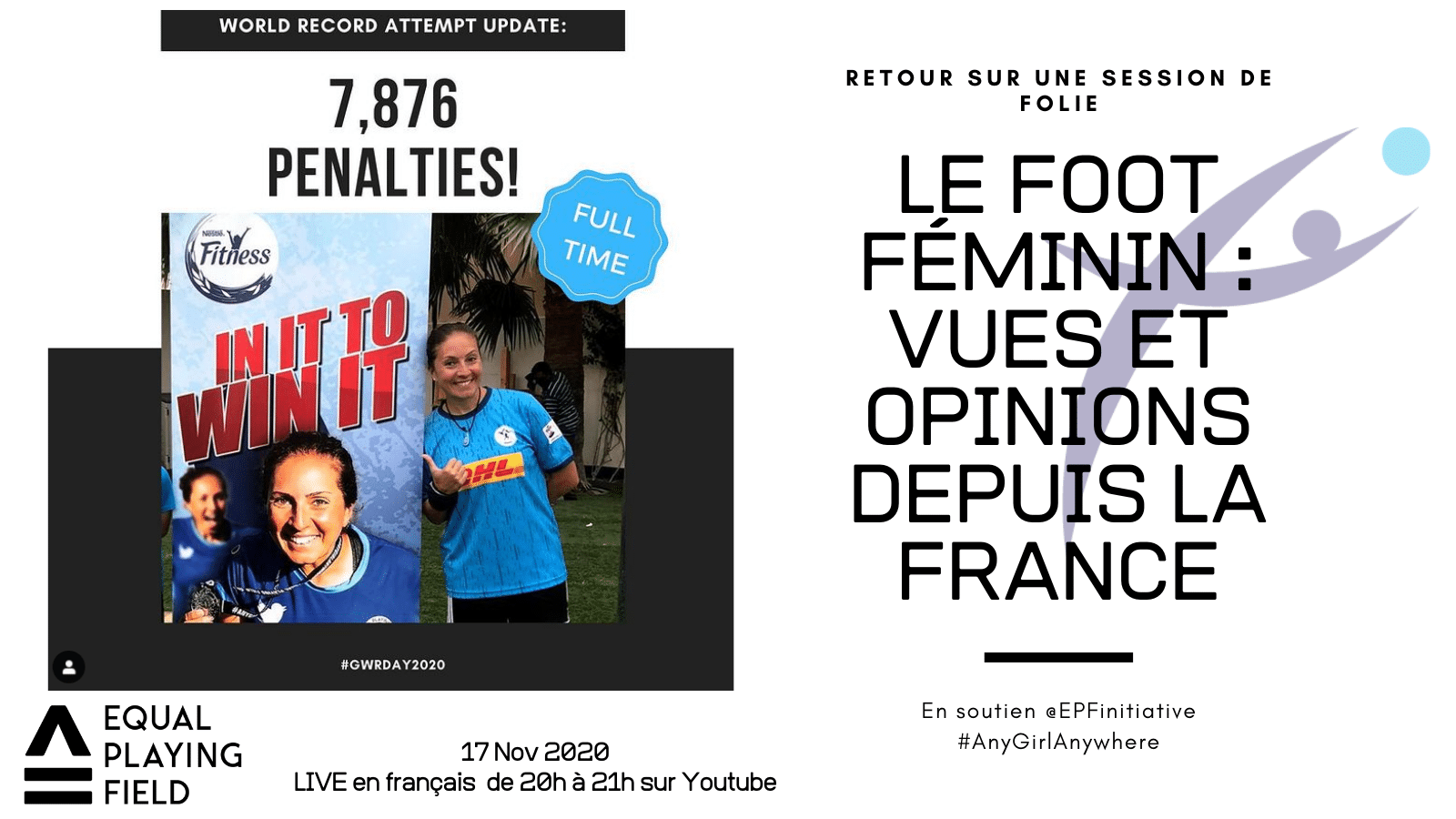 There has been a first, a year ago with the moderation of a round table – a time not so long ago when one could still gather in a large committee… And then because of COVID and as we wanted to reach a worldwide audience, the experience of moderating a live debate on the internet was proposed to me a few days ago.
I still don't want and feel comfortable to get into the light. But I understood a year ago that sometimes it's the best way to redistribute it and it changed my life… A bit 😉
So this time I muted paused my little impostor nagging voice from the start. And accepted this proposal with a smile. It's not every day that you can contribute to cover a world record attempt -yes, a real one – and for a good cause! That's how I got embarked into a journey of going live on Youtube without a net.
But saying "Yes" because you believe in the energy of a group, in its capacity to lift mountains (or rather to climb them, I'll come back to that in a while) and in the importance of a cause, because let's admit it, we also need to put a little madness in our lock downed lives, well… it doesn't guarantee the quality of the "deliverable".
However, to advance causes that matters to us, it is important to never take ourselves seriously (to facilitate creativity) BUT to work seriously to advance the debates and to be a force for proposals.
When I embarked on this crazy adventure – that of a 5th world record in 3 years for Deena and the Equal Playing Field team (including the initial one in 2017, the highest altitude football match ever played, at Mount Kilimanjaro) in order to advance the cause of access to football for any girl anywhere in the world, that of the Most Penalties Taken in 24 Hours- I knew that:
The march was high.
My impostor syndrome would come back…. Especially as I was asked to carry the Live event in French. My mother tongue and therefore the one in which my impostor syndrome speaks the loudest!
Time was short… no training phase this time. And a very short warm-up.
Or to put it in a more down-to-earth way, I got the invitation in the tone of the joke 15 days before the event. Then came the confirmation four days D-Day before that it was actually not a joke. And all the information – including how to create the virtual studio – 10 hours before the kick-off of the live show.
In short, I didn't really know the field where I was putting my feet on. But I hoped to be able to contribute on my small scale… And I knew that my studs, even unusable since they melted (actually it's the glue of the sole that melted but let's skip over that detail) during my participation in the 4th Equal Playing Field World Record in Lyon last year through a serious the heat wave,
THE WARM-UP (D-1 => H-1)
With 24 hours to go before the kick-off, heart beating and stress rising for fear of not being up to scratch. Of whom, of what in the end… Impostor and good pupil syndromes, you don't have permission to go out! I took the time to review my priorities. And I set aside some time for reflection and work to prepare for this debate.
I wanted freedom and flexibility. But I also aimed to build it with intention. My wish was to go crescendo and make the studs and hearts vibrate. To give us the opportunity to share what brings us together. On all pitches and in all weathers on all continents.
But to speak the language of the ball you have to take the time to tame it, to practice your scales. So despite the limited time available to prepare for the debate, I allowed myself some moments of pause to come back to my own guidelines.
In 24 hours I have:
Gathered my ideas on the messages I wanted to convey.
Imagined who I could invite and without setting myself any limits. (I had even considered inviting Sandrine Roux and Jérémie Janot, two people who inspired me and made me dream in the goal. So they would talk about the madness and character of goalkeepers. But I quickly heard that the theme would be dealt with by another group during the 24 hours of live… Sandrine and Jérémie if the message reaches you for some reason, I invite you for an episode of my upcoming podcast…).
Activated my address book.
.. Waited… waited for the answers from the speakers that I wanted to have around me. And for the technical information.
SCOOP: I'm not made for waiting… or turn in a more positive outlook: I need to work on my stress management and patience.
Smiled and wept with joy and gratitude when seeing the positive responses.
Briefly exchanged during the afternoon with my first speaker. Aurélie -whom I did not know personally, in order to break the ice and identify key elements to launch the debate. You will understand why I insist on this later on…
Worked on a micro communication campaign. It included creation of a visual and publication on my social networks.
BACKGROUND NOTE: in the meantime, I was living my life as a self-entrepreneur and was obviously pursuing my work assignments…
And then, just like this, it was time to get started… Going Live in Youtube without a net. And without having been able to test the platform / virtual studio. Why? Because it was funny going live on youtube without a net… No not really 😉 Fact is for a question of cost minimization – only one account was used for all 24 "episodes".
WISHES: If I had the skills, I would create a GIF with my headshot from the video and "ideas bubble" letting you know how I felt… 
THE MATCH… GOING LIVE ON YOUTUBE WITHOUT A NET
There is one thing you need to know by now… This one hour of live started with all the elements of a nightmare… On my side at least. Let me share the "minute by minute" in Carole's head experience.
Tuesday 17th of November, 8pm CET…
I make my little introduction, not prepared enough from my point of view. Yet considering the circumstances, the essential is conveyed: my support to Deena and EPF. As well as my desire to give everyone the opportunity to develop and be empowered through sport and football in particular. Not to forget my recognition for the speakers.
And then I invite Aurélie on stage… This is when the reality of "Going live on youtube without a net" nightmare begins. She hears me but I don't hear her. I realize that I have no sound back! My headset doesn't work… The VAR is blind so to say.
I move around a bit and try to stay as calm as possible and yet I feel all my lights going red one by one… I understand from the internal chat with the speakers that the problem is only on my side….
After having briefly tried to check the audio settings and preferences, I realize how it feels going live on Youtube without a net. In a desperate move, I try to launch a Youtube window to get the sound return even with the delay… But my whole audio system is "down"…
My brain is screaming at me to find a solution… I try not to lose face and to remain zen at least on the screen. As I realize that my guest hears me, I give her a subject launch. While explaining that I will try to find a fix for the audio bug…
We're probably 5 minutes away into the live feed

… and it's PANIC time. The reality is that few people are watching us live. There is no major issue at stake. BUT I don't want to disappoint anyone. And I want to live by my standards…
I'm looking for a solution, forget to close the mic…. You can hear a few words when I gently "throw" my helmet (3'40 into the show…), because I ask for help to turn it off. In short, I've reached my limits. I'm in survival mode: my brain doesn't really work anymore.
But I'm lucky to have caring people around me. In the speakers' chat room – they encourages Aurélie to continue her presentation. And in my studio – i.e. at my flat – my companion tries to help me.
In the moment though, I am having a hard time regaining my composure. And I sincerely think about ending the live show abruptly. Because in the meantime, it is impossible for me to go back to the live show through the camera and/or the microphone….
8 minutes into the live session

… I am still going live on Youtube without a net. And I am the moderator of a debate that I cannot lead. Indeed I cannot hear my guests and at this very moment I cannot be heard either…
Eventually I'm able to activate the camera and microphone again. And my companion lent me his headset. He was invited as a guest speaker on the last part of the show. But he sacrificed himself. SHOW MUST GO ON. So I find myself leading the debate with the sound return of another speaker channel. In other words -to spice up this evening which started in such a smooth way- I can hear myself in the headset when I speak…
I am lucid enough to thank Aurélie for having kept this live broadcast alive. She rocked by presenting the unpublished lessons of an ongoing survey on women's football and women in sport (have a look at the video)– while I was in complete darkness.
I even find the strength to make a little humour by putting myself in her shoes and imagining that she must have felt the stress of the penalty kicker… In short, I get into the match as best I can.
But the story is not over yer.
It takes me a long time to understand that my difficulty to sometimes hear my guests -Pierre joined us in the meantime to talk about Diambars and the warriors- comes from the fact that the laptop source that transmits the sound to me in Bluetooth is too far. On the sly, I send a text message to my companion, even though he is in the same flat, so that he can bring his laptop closer…
Besides, I wonder who this Emilie is in the virtual studio. But it's impossible to put a name to her face… The video clip of the speakers on hold is very small and shaded, I'm stressed and I only have her first name as an indication… In short, I don't recognise Emilie who is in the speakers' room. THE Emilie that I invited in the afternoon and that the panic has made me completely forget… It is only the next morning that I understand my mistake and contact her again. Let's say this article is an opportunity to thank her publicly for her contribution to the live chat and the indications she was able to send over. I didn't open the microphone for you but you allowed it to remain open for others! Captain Em, I am already working on an occasion to highlight your commitment, your vision and your projects.
After 20/25 minutes

I finally have a correct audio foldback. And I almost forget that I'm hearing myself back as I speak….
The last 30 minutes

will be nothing but happiness around exchanges and the beauty of football as a gathering tool. My accomplice Carole brings her mischievous and sharp eye on women's football. Candice, whom I admire for her career as a top-level sportswoman and for the work she has done with Little Miss Soccer, shares her desire to give and accompany. And Abdallah -a friend of mine and an Iraqi refugees in France- illustrates by his journey and testimony the strength of a moving ball.
60th minute.

.. I hang up not the studs but the live button. Happy to have seen so many smiles, conscious of having shared a privileged moment, I am also exhausted. But I find the energy to send a small personalized message to each of the speakers. Tonight the actors were them, tonight they played their part so I want to thank them not only for having followed me in this crazy adventure but also for having shared and passed over good vibes to those who will take the time to receive them.
THE POST-GAME RECOVERY
Why am I sharing all this?
I never thought I would share my mistakes out in the open. It's not easy and it's uncomfortable.
But I am fighting against my perfectionism and above all I am realizing more and more that it is only by openly sharing our experiences, good or bad, that we will be able to move forward together.
So yes, not only am I sharing this far from perfect video AND the other side of the set without any make-up.
I decide to use this experience to learn about myself, share tips and communicate.
If I have this demand for perfection with myself, I don't pretend to be perfect at all, it's one of my paradoxes (ambitious but humble). And I don't want to hide behind a mask… Unless it's to protect others 😉
TO CONCLUDE What I take away from this experience:
On the specificity of live in self-taught mode and without a support technician.
ALWAYS HAVE A PLAN B with a "shadow" speaker – a real ghost, not someone who will sacrifice him/herself.
I am well aware that this is not a panacea, and of course I encourage you to test the tools beforehand…
But sometimes we don't have the time to do the tests or we have unpleasant surprises. So and to avoid this moment of panic that can make you lose your footing, then this home-made fallback solution can do the trick.  It would still be bad luck to have an incompatibility of microphones on two separate and different computers!
You have to believe in your dreams and get out of your comfort zone, climb your invisible mountains one day after the other. Sometimes setting oneself the challenge of "do what you can't" shows us that the impossible only has the limits we give it!
Work pays off and it is a joy to be able to give a shine a little light to those who deserve it. As I write these words, I realise that what I had envisaged as a crazy request, a request that I almost didn't make in fear of disturbing and sounding unprofessional, was in fact a small gift, not to myself or to the listeners, but to the participants/speakers as well. In the end, the only risk not to try is regrets, it is better to live with a "no" than with regrets.
A CONFIRMATION: In these strange and difficult times for many, putting human beings, play and sharing at the heart of exchanges, taking risks and being vulnerable but valiant and daring, is perhaps the best way out of the crisis: together, moving and smiling… And in our case probably with a ball at our feet or under our arm.
I hope you have smiled reading along those line. Perhaps you've learned something useful too. If you've been through this kind of experience, don't hesitate to share other tips or feedback.
"Alone we go faster, together we go further".