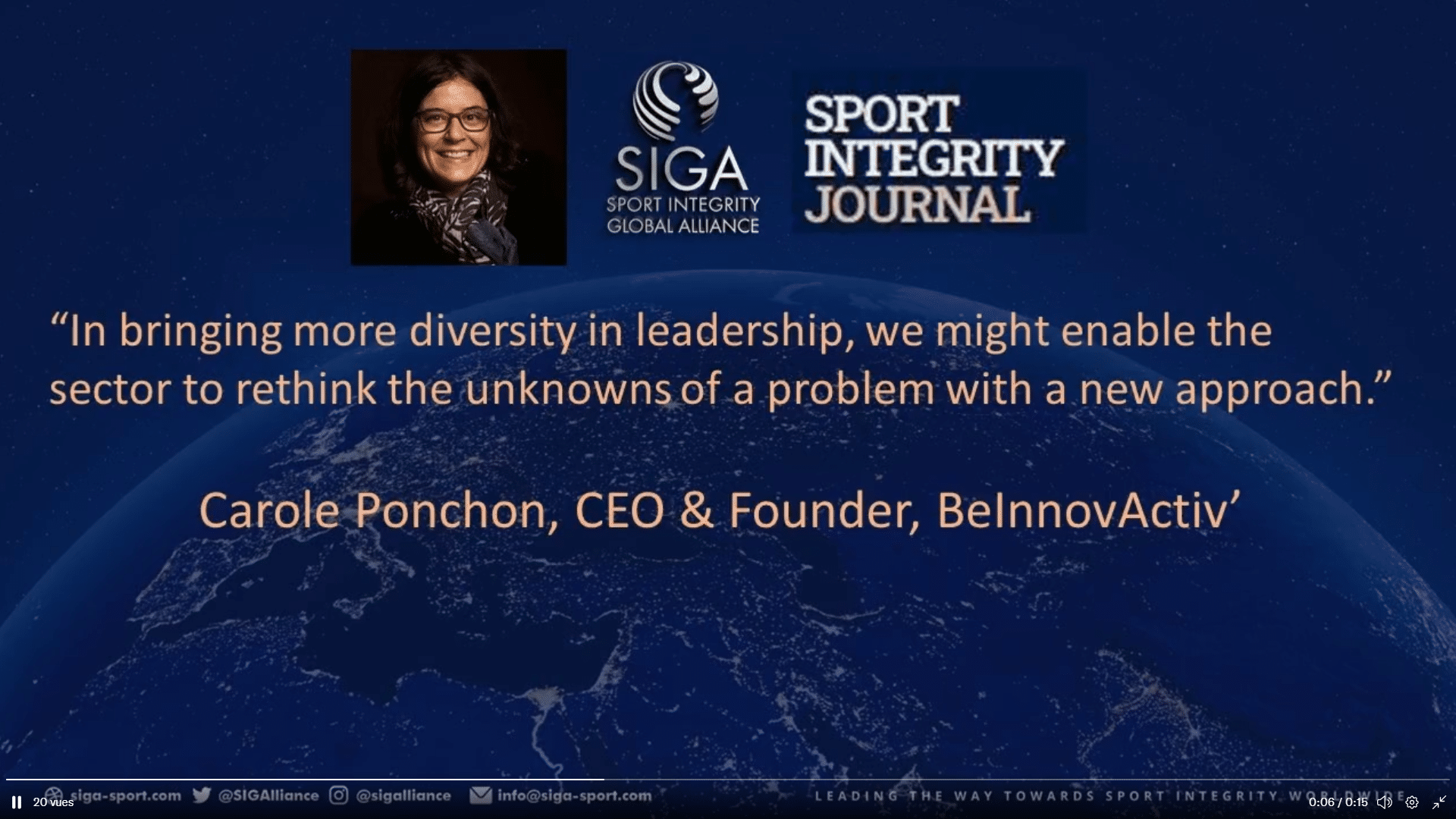 Yes, you read it well! It's about time we start questioning the think and act in the box.
Note: A shorten version of this opinion piece was published as part of the March 2022, Special Edition of the Sport Integrity Journal by SIGA. 
I've been asked recently to share at a conference my story and journey as a woman leader in sport. The aim of the event was to inspire other women to step up to leadership positions. Unsurprisingly to those who know me, my first reaction has been that of defiance and doubt – pretty similar to the feeling I had when facing this blank page being asked to provide an opinion piece for the SIJ. Why are they asking me? What is it they might be seeing that I'm not (in spite of my new glasses)?
Life has taught me –sometimes the hard way- that the wildest and best opportunities would come my way when stepping out of my comfort zone. So – despite the stress and the debilitating self-doubt- I jumped in once more and started collecting my thoughts and mind.
I've never pictured myself as a leader
And yet, I admit some may say my "lifebook" tells a different story – it's all a question of perspective and perception after all. I grew up in a small village in the French countryside. Being one of the few girls –when not the only one- playing football (soccer for the US audience) in the early 90's, I faced the challenged of proving myself on a mixed team. And I loved it – being the fiercest one on the pitch, tackling the ball as a defender. At age 12, I was asked to be involved as a trainer/coach for the local Football Spring Camp. It was challenging, it was exhausting for the introvert perfectionist that I was, and yet I showed up. Not only did I show up once, I came back every year till I turned 17 and moved away for my education. It's around this time that I discovered –by accident (I was asked to put on the gloves as the regular one got injured)- my real place on the pitch as goalkeeper. I barely dared asking for it, though, as I was afraid to break the group dynamic. A keeper is a leader on her own; it can be a lonely path but it says a lot about the person I was and still am. Despite the fact that I might not have been able to put the correct words to the experience, I always felt and knew deep down that sport saved me and helped me get out in this world, claim a place. That's why I wanted to give back. That's why I chose to work in the sector. Subtlety, I got to put my neck out and had the opportunity to explore the leadership landscape in its various form of expression. My first radio interview had been on the topic of female leadership 13 years ago at the dawn of my career. I was so stressed I fainted afterwards – true story. In 2017, I received the honour of being selected to represent my country in a very selective leadership programme by the US State Department and conducted by the Center for Sport Peace and Society – the Global Sports Mentoring Program. In 2018 I created my own organisation, BeInnovActiv', and since then have been involved in various roles -as volunteer, as strategic adviser and as project leader- in various initiatives from Equal Playing Field conference in Lyon during the FIFA Women's World Cup in 2019 to the Global Goals World Cup Europe to the SWinG project. I've seen, I've observed, I've tasted the contours of leadership in sport.
Why am I making it so personal you may wonder –especially as I mentioned (and meant it) that I don't see myself as a leader?
I believe that we are not sharing enough of our struggles. And in this age of social media we will not be able to move forward if the only thing we can see is the tips of the iceberg. But my reality is that at age 35, after rereading my own story, I'm still doubting myself.
Bear with me, I promise I'm coming to the point.
Of course there are many personal character traits that partly explain the situation. Yet, from my perspective and having hearing and observed too many similar stories, I have come to the conclusion that this whole struggle may also:
Be more shared that we – or at least, I – think (i.e self-doubt and sabotage as one of the most shared yet unrevealed traits of human being) and
Come from the false picture that is being portrayed about leadership.
This is where I'm saying "words matter".
In fact they might be the only portal for a swift and effective change – and this is no coincidence that the first of the four Toltec's Agreement is "Be Impeccable With Your Word."
This is where I'm making this article an opinion piece on gendered leadership in sport. If you ask me why I would not use "female" leadership it is because I believe in something much wider than biological determination. I believe in Humankind. And from where I stand focusing on male or female leadership may cause more harm than good. In fact, as I see it, we (the society and the sport sector) are at a crossroads and are left with no other choice than to learn words and their full meanings, to teach ourselves to choose them carefully and then fire them with all of our and their powers combined.
We shall reflect on and question the status quo of leadership in sport no doubt about it, but I'll start by raising this crucial question:
WHAT DO WE MEAN BY LEADERSHIP especially in sport?
Whether we focus on the position – from coach to captain, from manager to board member – or the characteristics -from Elected leader, visionary leader, team leader, thought leader, servant leader, transformational leader…
As soon as you start digging into it and questioning the traditional picture of the leader, man or woman, you tend to realise two things: 1) depending on circumstances we can all be leaders – it's not about an occupation- and 2) it's about time to be clear about what we mean, therefore deconstructing the myth of THE leader. I'm convinced this shall lead us to tackle the unquestionable fact that WOMEN –in sport and elsewhere- ARE NOT YET CONSIDERED LEADERS LIKE OTHERS… facing issues such as feelings of imposters, self-censorship, sexism and even discrimination, maternity leave, mental workload and overwork…
What I learnt as leader of the SWinG project
The SWinG[1] project that I co-initiated in 2018 and had the pleasure to lead from Jan 2019 to Dec 2021 is a consortium of ten partner organisations focused on opening doors for more women in elected decision making positions in sport governing bodies. As the first phase of the project was to capture the current landscape in terms of leadership in sport, the results of our Literature Review combined with our Desk research and small-scale survey revealed the obvious lack of diversity in sport governing bodies. The results also highlighted some changes in the last 20 years, but these did not happen as fast as we would shoot for (ie still far from representing the very minimum of a third of the members of governing bodies). They also revealed a strong pushback from the sector against imposed change (quota).
Yet, behind the harsh reality displayed by the figures, there is another level and experience. There are women leaders wherever we DARE to look! Whether in the spotlight or not, what they have in common is that they stepped up, they filled in a role when they spotted the need and are disrupting the system by questioning it –even silently! In fact, one of the key insights that will stay with me for a long time is that we identified that the superpower of women in leadership position is questioning! And for this specific reason we need to move towards a more respectful, sober, and resilient sport environment WHILE ensuring it is open to everybody – bringing more diversity is the way forward!
Final words on leadership
Of course, I strongly believe this is where we can get better altogether! We need to put responsibility and sustainability at the centre of the reflection. Ultimately, gendered leadership shall not be a topic per se. Indeed, what shall matter for sport to thrive and fulfil its potential is the content and the project, the competencies and the vision, the ability to see and develop power with rather than power over. We know the path and we know collaborative, creative, and allyship-building initiatives are keys. Let's build bridges between all involved rather than facing each other. We need more safe and inclusive space for sure, but not only for women and girls – for EVERYONE!
Maybe what I'm trying to say is that it's about time we start refocusing the debate. And instead of – or I shall rather say in addition to – working for the voiceless, we start working with the "heardless"! Some may have added a "t" rather than a "d", but I would never as I want to hold on to this dream that we can build with and through sport lives with meaning that touches and inspires others. In sport and elsewhere, I strongly believe we will win when the focus will no longer be on a biological element of leadership but on transformational leadership! What if, beyond the categories in which we "must" place ourselves, beyond the labels stuck on us (by society but also let's face it sometimes by ourselves), we allowed ourselves to simply be, to simply be human?
Let's be mindful when we cast our vote and let's support coalitions – men and women together – that have demonstrated they can really cope with seeing and hearing what might be disturbing to them and their privilege.
[1] Access to all outputs (Research report on the landscape of women leadership in sport and business, Activation model, insights reports on the learnings, etc) on the project website: www.gamechangeher.org