#TeamUP Gathering of strong sisters
28/06/2019 / 08:00

-

30/06/2019 / 17:00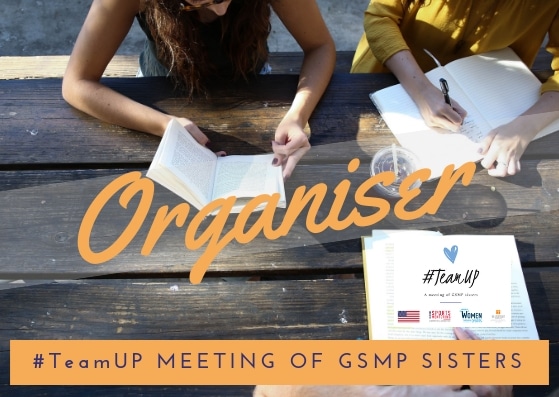 Focusing on knowledge sharing and the power of the sisterhood, the #TeamUP meeting was a 3-day intense programme of activities which contributed to give a new boost to the participating sisters.
It has been designed to be a GSMP Level 2. This was done by sharing knowledge, addressing together our challenges and taking part to an international wide event to promote gender equality and women's empowerment.
#TeamUP acted as both a tool for capacity building and a vector for strengthening the sisterhood while providing opportunities for GSMP sisters to meet each other or reunite.
The GSMP mini-reunion took place in Lyon on the down of the FIFA Women World Cup and alongside the Equal Playing Field "Festival Of Football". This has a unique opportunity for GSMP sisters to gather and meet the world while contributing to one of a kind initiative.
The #TeamUp GSMP reunion gathered 8 participants for the full programme representing 6 countries (Belgium, Bolivia, Brazil, France, Macedonia and South Africa). On day 2 which was the peak of participations, 13 sisters representing 11 countries (Australia, Belgium, Bolivia, Brazil, Egypt, France, Jordan, Macedonia, Mexico, New Zealand, South Africa) took part to the Festival of Football and a cultural dinner.
The #TeamUP programme of activities addressed the following objectives:
1. To promote gender equality and women's empowerment
2. To promote GSMP as a trailblazer programme
3. To strengthen the supportive GSMP network by meeting face-to-face and sharing experiences and knowledge (reactivating the superpowers of GSMP community)
Carole has been the initiator and the coordinator of the whole programme.