Conversations on Excellence
21/11/2018 / 08:00

-

17:00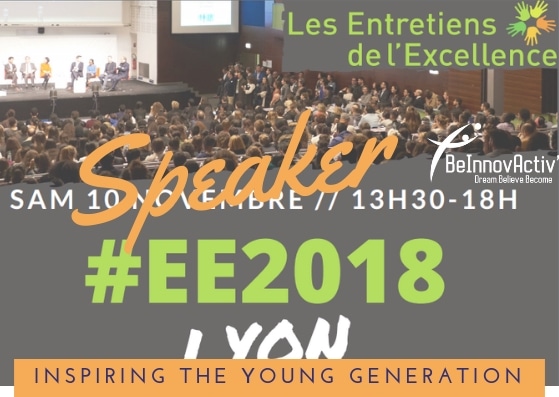 Conversations on Excellence (in French "Les Entretiens de l'Excellence"), are meetings with high school students in order to inform them, advise them and support them in their life project. Professionals with atypical and inspiring career come as volunteer to share their journey and to answer the various questions that young people ask themselves. The goal of the association: to give access to information by example through a business approach, a good vision of excellence.
Karim Mahmoud-Vintam, Founder of "Les Cités d'or" a not for profit organisation aiming atdeveloping and supporting a community of citizens in the service of reconciliation),  was the godfather of the Lyon 2018 Excellence Interviews held at Sciences Po.
Carole Ponchon, our founder, participated in the Lyon edition of the Entretiens de l'Excellence as a speaker on the two sessions of 1h 30 workshops dedicated to sport. At his side, two other panellists: Pierre Mbas, Director of Diambars, and Marie-Sophie Obama, President Delegate Lyon ASVEL Féminin (the Lyon's basketball club owned by Tony Parker). All three shared their vision of sport as a school of life AND economic sector in their own right and opened the field of possibilities for the young people who attended and contributed to the workshops.